Demi Glace Culinarium
Classic sauce base with tasty roast flavours and a sophisticated blend of mirepoix, perfect for refining premium meat dishes.


Can be stirred into boiling water! No lumps!
Free from added flavour enhancers!
Specification:
Fine grained brown powder, for preparing a dark bound sauce.
Application:
For the preparation of dark sauces.
Ingredients:
Palm fat, modified starch, maltodextrin, vegetables (tomatoes, onions, garlic, celery, carrots), starch, iodized table salt (table salt, potassium iodate), caramel, yeast extract, flavours, sugar, soy sauce powder (soy sauce [soybeans, wheat, salt]), food seasoning (soy), red wine extract, thickener (xanthan, guar gum), acidity regulator (sodium diacetate), thyme, rosemary.
° without flavour enhancers, colourings and preservatives, sulfite compounds, antioxidants and sweeteners with effect in the finished product, therefore no labeling on menus in germany necessary
Nutritional values per 100 ml prepared sauce: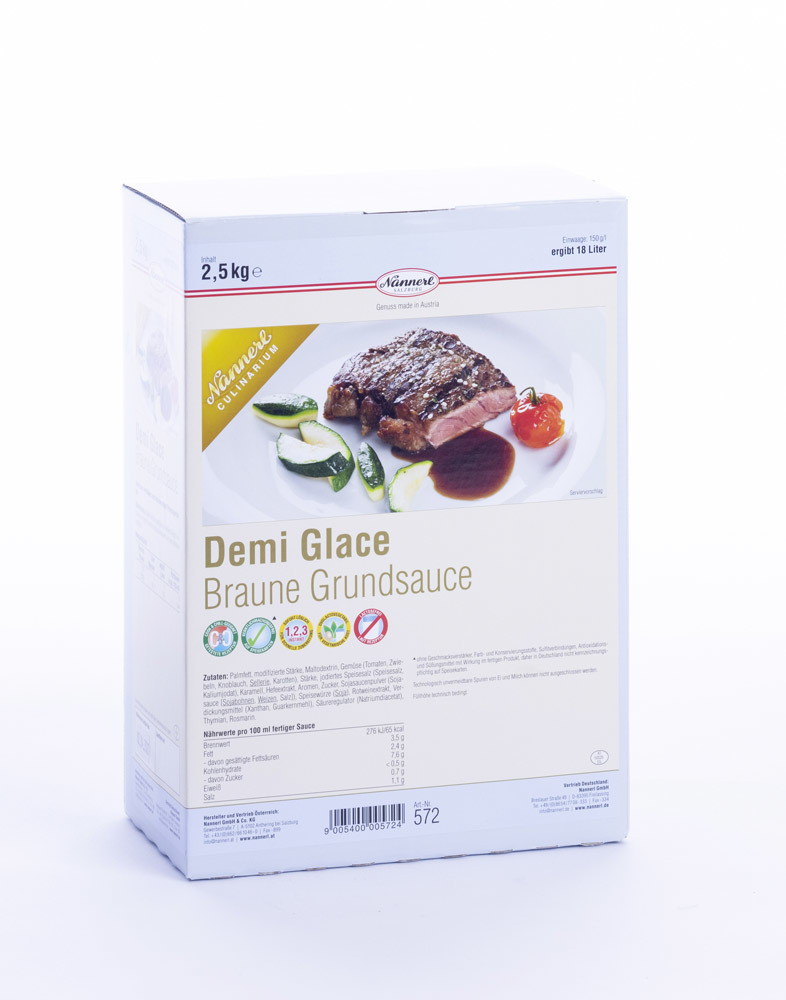 Energy 276 kJ/65 kcal
Fat 3,5 g
- thereof saturated fatty acids 2,4 g
Carbohydrates 7,6 g
- thereof sugar < 0,5 g
Protein 0,7 g
Salt 1,1 g
Nutritional values per 100 g dry matter:
Energy 1840 kJ/439 kcal
Fat 24 g
- thereof saturated fatty acids 16 g
Carbohydrates 50 g
- thereof sugar 2,0 g
Protein 4,4 g
Salt 7,5 g
Trading units:
10 kg bucket item number 932
2,5 kg box item number 572