Vegetable Bouillon Salzburg Style
Spicy vegetablebouillon for making clear soups and perfectly suitable as refinement or as a base for soups, sauces etc.
Free from main allergens! Free from added flavour enhancers! Free from palm oil!
Specification:
Fine grained pale yellow powder with vegetable pieces, for preparing a savoury vegetable broth.
Application:
To produce clear soups. Suitable for refinement and as a base for soups and sauces.
Ingredients:
Vegetable broth (hydrolysed plant protein, salt, sunflower oil), iodized salt (table salt, potassium iodate), starch, maltodextrine, dextrose, yeast extract, sugar, vegetables (2,3%) (carrots, parsnips, onions, tomatoes, parsley, chives), sunflower oil, flavour, turmeric, caramel, colouring turmeric extract, spice extract.
* Without additional substances with allergenic potential according to the current version of Regulation (EU) 1169/2011 Annex II.
° without flavour enhancers, colourings and preservatives, sulfite compounds, antioxidants and sweeteners with effect in the finished product, therefore no labeling on menus in germany necessary
Nutritional values per 100 ml of ready soup: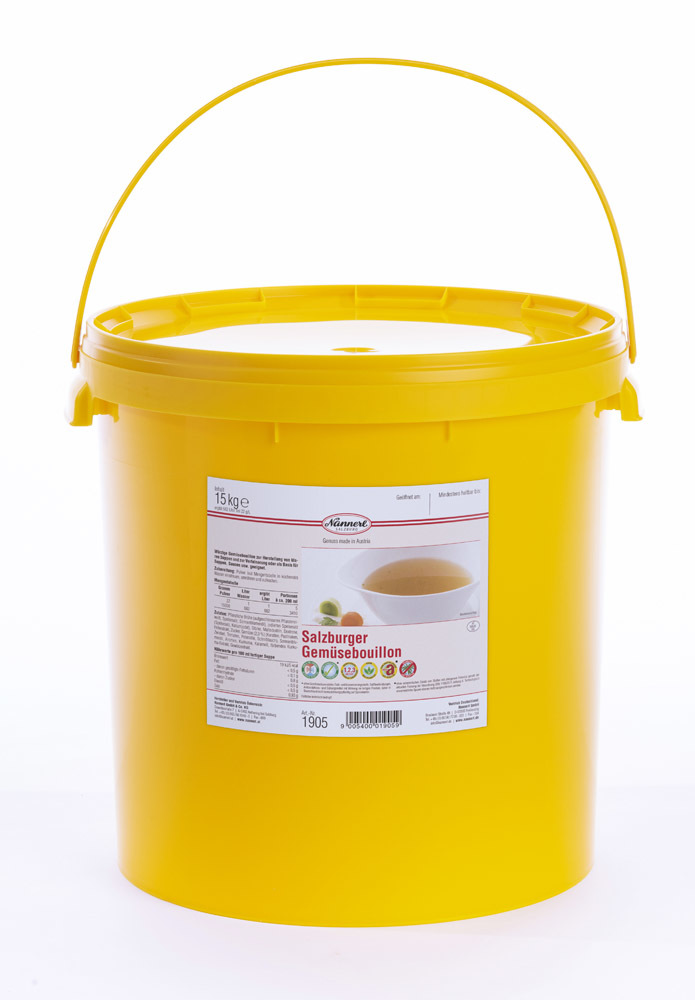 Energy 19 kJ/5 kcal
Fat < 0,5 g
- thereof saturated fatty acids < 0,1 g
Carbohydrates 0,8 g
- thereof sugar < 0,5 g
Protein < 0,5 g
Salt 0,93 g
Nutritional values per 100 g dry matter:
Energy 860 kJ/205 kcal
Fat 2,2 g
- thereof saturated fatty acids 0,2 g
Carbohydrates 35 g
- thereof sugar 12 g
Protein 11 g
Salt 42,4 g
Trading units:
15 kg bucket item number 1905
4 kg bucket item number 1904