Granulated Clear Soup purely vegetable
Pure vegetable soup with highly aromatic excerpts from a classic mirepoix, highlighted by a subtle spice bouquet.
Purely vegetable!
Specification:
Fine grained light brown powder with vegetable pieces for preparing a spicy clear soup.
Application:
To produce clear soups. Suitable for refinement and as a base for soups and sauces.
Ingredients:
Iodized salt (table salt, potassium iodate), maltodextrin, flavour enhancers (monosodium glutamate, disodium guanylate, disodium inosinate), palm fat, condiments (soy), flavours, vegetables (carrot, parsley), spice extracts, turmeric.
Nutritional values per 100 ml prepared soup:
Energy 22 kJ/5 kcal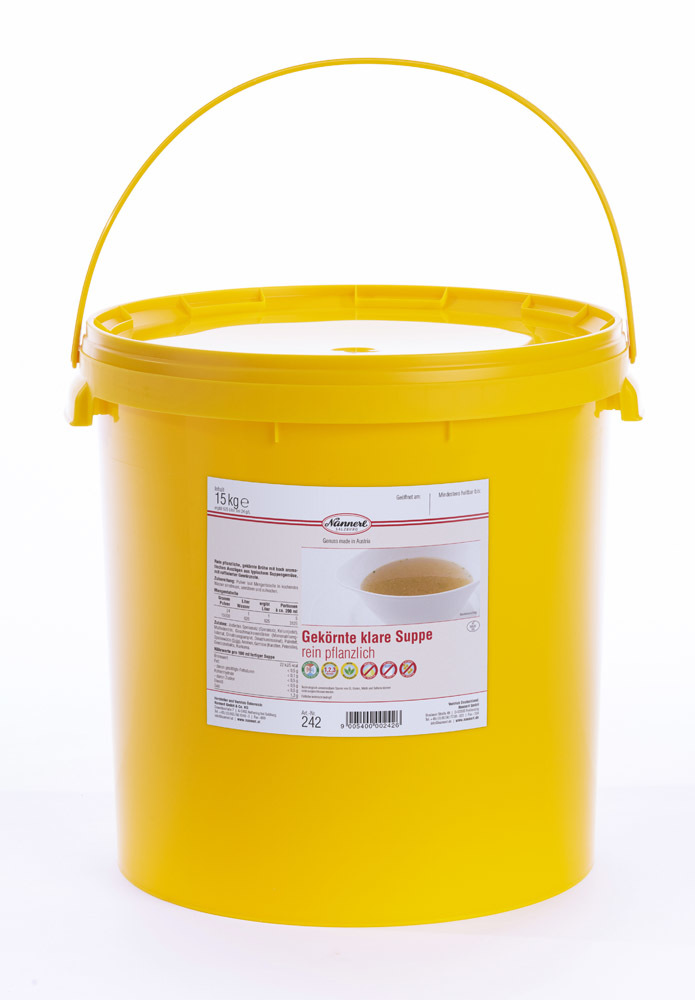 Fat < 0,5 g
- thereof saturated fatty acids < 0,1 g
Carbohydrates < 0,5 g
- thereof sugar < 0,5 g
Protein < 0,5 g
Salt 1,3 g
Nutritional values per 100 g dry matter:
Energy 1002 kJ/238 kcal
Fat 7,2 g
- thereof saturated fatty acids 3,1 g
Carbohydrates 26 g
- thereof sugar 20 g
Protein 17 g
Salt 45 g
Trading units:
25 kg box item number 1242
15 kg bucket item number 242