Clear Chicken Bouillon
Typical chicken broth made of tasty chicken meat and chicken fat and congenial spices. The best choice for refining dishes or for preparing a beefy chicken broth. Easy and versatile to use.

Free from main allergens!
Specification:
Fine grained yellow powder, for preparing a spicy strongly flavoured chicken broth.
Application:
To produce clear soups. Suitable for refinement and as a base for soups and sauces.
Ingredients:
Iodized salt ( table salt, potassium iodate), flavour enhancers ( monosodium glutamate, disodium guanylate, disodium inosinate ), maltodextrin, starch, flavours, chicken fat (4,7% ), sugar, palm oil, seasoning, dried chicken (0,6 % ), spices, parsley, antioxidant (rosemary extract **).
** No technological function in the prepared product , therefore the labeling of additives ( acc . §9 ZZulV ) is not required on menus.
*no added allergens in the recipe according to the current EU-regulation 1169/2011 schedule II.
Nutritional values per 100 ml prepared soup:
Energy 25 kJ/61 kcal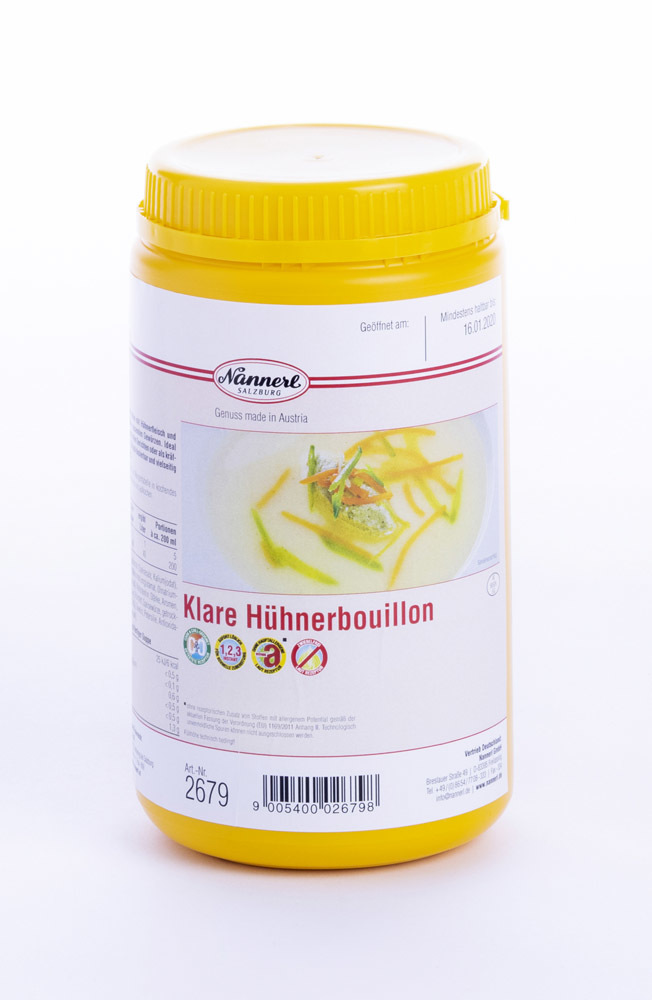 Fat < 0,5 g
- thereof saturated fatty acids< 0,1 g
Carbohydrates 0,6 g
- thereof sugar < 0,5 g
Protein < 0,5 g
Salt 1,3 g
Nutritional values per 100 g dry matter:
Energy 975 kJ/233 kcal
Fat 6,4 g
- thereof saturated fatty acids 2,2 g
Carbohydrates 37 g
- thereof sugar 1,8 g
Protein 6,0 g
Salt 47,1 g
Trading units:
15 kg bucket item number 990
1 kg can item number 2676