Clear Chicken Bouillon
Typical chicken broth made of tasty chicken meat and chicken fat and congenial spices. The best choice for refining dishes or for preparing a beefy chicken broth. Easy and versatile to use.
Free from main allergens! Free from added flavour enhancers!
Description:
Fine grained yellow powder , which gives a spicy strongly flavoured chicken broth in the preparation .
Application:
To produce clear soups. Suitable for refinement and as a base for soups, sauces.
Ingredients:
Iodized salt (table salt, potassium iodate), yeast extract, maltodextrin, starch, flavours, chicken fat (4,7%), sugar, palm oil, seasoning, dried chicken (0,6 %), spices, parsley, antioxidant (rosemary extract)*.
* No technological function in the prepared product, therefore the labeling of additives on menus (acc . §9 ZZulV) is not required.
** Without additional substances with allergenic potential according to the current version of Regulation (EU) 1169/2011 Annex II .
° without flavour enhancers, colourings and preservatives, sulfite compounds, antioxidants and sweeteners with effect in the finished product, therefore no labeling on menus in germany necessary
Nutritional values per 100 ml prepared soup: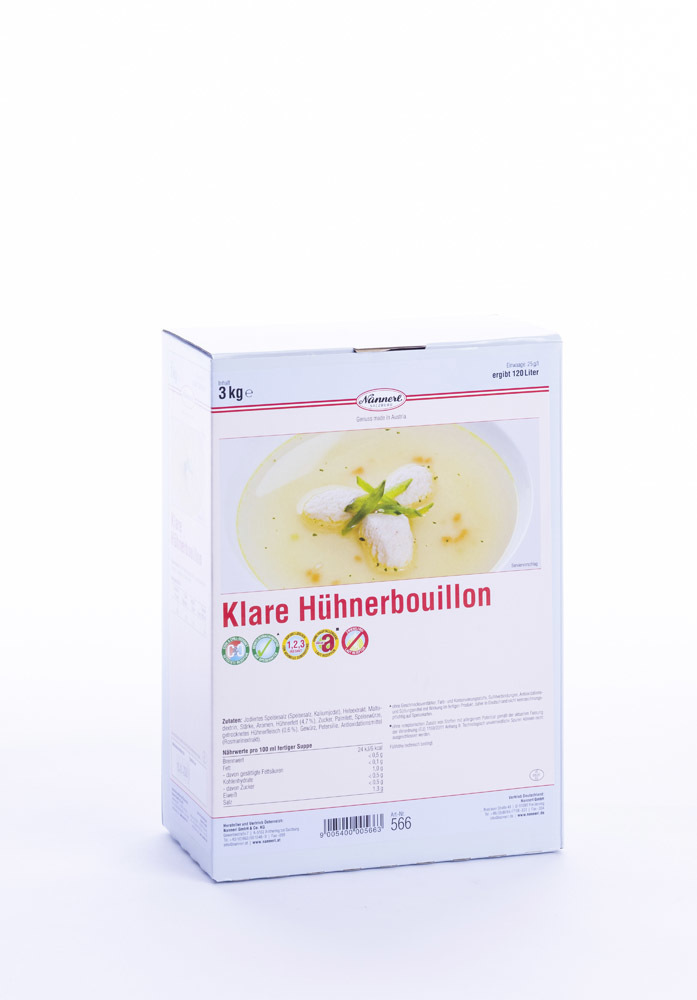 Energy 24 kJ/6 kcal
Fat < 0,5 g
- thereof saturated fatty acids < 0,1 g
Carbohydrates 1,0 g
- thereof sugar < 0,5 g
Protein < 0,5 g
Salt 1,3 g
Nutritional values per 100 g dry matter:
Energy 970 kJ/232 kcal
Fat 6,4 g
- thereof saturated fatty acids 2,2 g
Carbohydrates 37 g
- thereof sugar 1,7 g
Protein 6,0 g
Salt 46,4 g
Trading units:
15 kg bucket item number 1104
3 kg box item number 566