Clear Vegetable Bouillon organic
Tasty vegetable bouillon made from pure vegetable organic raw materials. Highly versatile and ideal as addition to fresh organic products, for flavouring and refining of soups, sauces, meat and vegetable dishes.
Organic Control Body: AT-BIO-501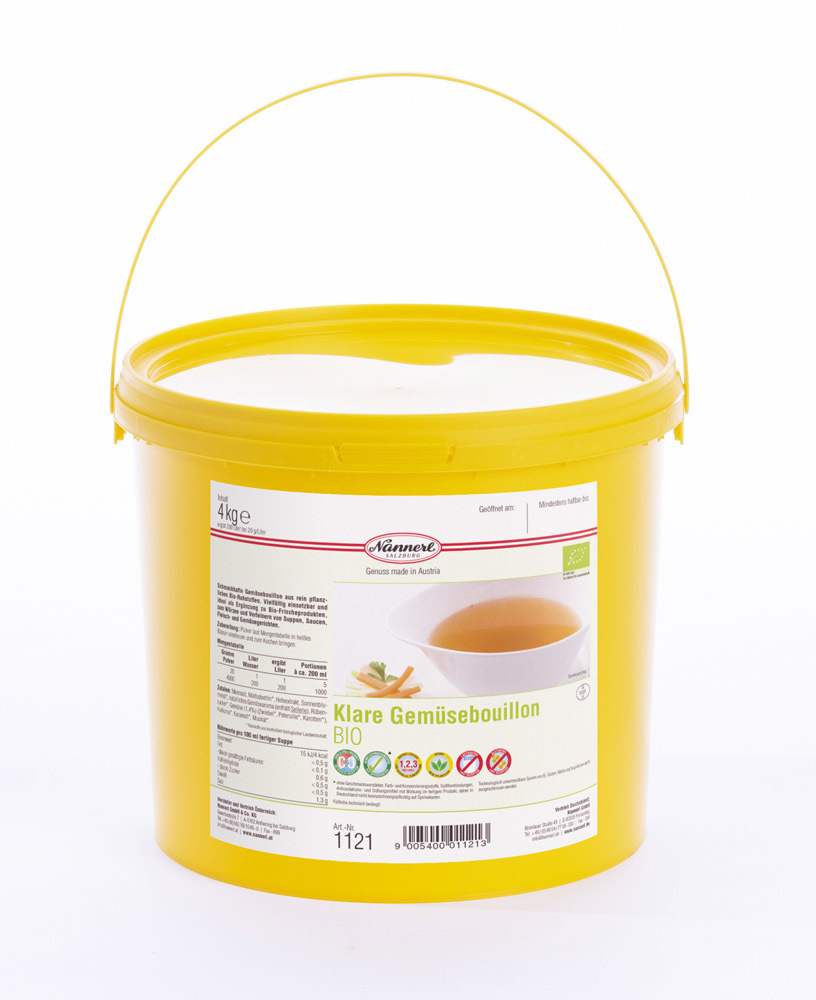 Free from added flavour enhancers!
Specification:
Fine grained pale yellow powder of yeast ectract base with vegetable pieces to prepare a clear broth.
Application:
To produce clear soups. Suitable for refinement and as a base for soups and sauces.

Ingredients:
Sea salt, maltodextrin, yeast extract, sunflower oil*, natural vegetable flavour, beet sugar*, vegetables (1,4%) (onion*, parsley*, carrots*), natural celery flavour (contains celery), turmeric*, caramel*, nutmeg*.
* Ingredients from certified organic farming
° without flavour enhancers, colourings and preservatives, sulfite compounds, antioxidants and sweeteners with effect in the finished product, therefore no labeling on menus in germany necessary
Nutritional values per 100 ml of ready soup:
Energy 15 kJ/4 kcal
Fat < 0,5 g
- thereof saturated fatty acids < 0,1 g
Carbohydrates 0,6 g
- thereof sugar < 0,5 g
Protein < 0,5 g
Salt 1,3 g
Trading units:
15 kg bucket item number 1120
4 kg bucket item number 1121